Olivarez Homes - LOCATION
Olivarez Homes is an affordable housing development located in Brgy. Sto. Tomas in Binan, Laguna. Laguna is one of the main provinces in Southern Luzon. It is approximately 30 to 40 minutes from Metro Manila if you travel via the South Luzon Expressway. It can also be accessed via the National Highway. This is the second biggest city in the Province of Laguna, next only to San Pedro City.
The city of Binan has developed into a suburban residential community. In fact, some of the largest export processing zones and industrial estates in the country are based in this city. Before it was named a city in 2010, Binan is also the richest municipality in the country according to the Commission On Audit. Aside from its economic growth and development, the city is also the third highest in Laguna in terms of population size. Only Santa Rosa City and Calamba has a higher population than Binan.
The economy of Binan is largely supported by the trade activity in the city. It is considered as one of the largest trading center located south of Metro Manila. Other sources of economy in Binan include agriculture, manufacturing, investment, and the fishing industry.
The location of Olivarez Homes in Binan, Laguna therefore provides the future homeowners of this development access to their basic needs. You can shop, dine, or enjoy leisure activities without the need to travel to Metro Manila This city in Laguna offers everything you could ever need to lead a quality life. First and foremost, it is near transport terminals, which makes it ideal to travel to and from Metro Manila if you are living in Laguna. This is a practical convenience that can make your life and stay in Olivarez Homes more comfortable.
Malls and Commercial Centers
Pavillion Mall
SM Sta. Rosa
Robinsons Sta. Rosa
Waltermart Carmona
Olivarz Plaza
Savemore Olivarez
University of Perpetual Help
La Consolacion College
Cavite State University
Brent International School Manila
Polytechnic University of the Philippines - Biñan
Zapote Elementary School
Saint Michael College of Laguna
Platero Elementary School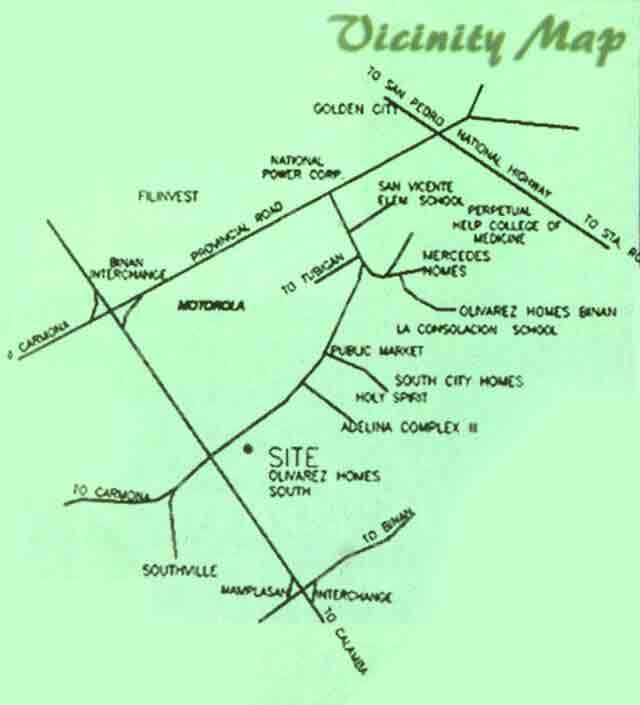 If you need to buy supplies for your home or you want to do some shopping, there are plenty of shopping centers and malls within Binan, Laguna. Some of those located close to Olivarez Homes include SM Sta. Rosa, Robinsons Sta. Rosa, Pavilion Mall, Ayala Malls Soledad, and Savemore Supermarket. For those moving in with their families, you can find plenty of good schools in the area, regardless if you want a private or public school. For the grade school level, there is Platero Elementary School and Zapote Elementary School. For high school students, you can choose from The Beacon Academy and Santa Rosa Science & Technology High School. For the college level, you have Cavite State University, La Consolacion College, and University of Perpetual Help.
Access to medical facilities is also important to protect your family's health. Thankfully, residents of Olivarez Homes won't need to travel to Metro Manila to have access to basic medical services. Some of the best hospitals in Binan, Laguna include Santa Rosa Community Hospital, Binan Doctors Hospital, and Perpetual Help Medical Center – Binan. If you and your family ever need a break and need some time to unwind, you can explore many notable leisure attractions such as Splash Island, Makiling Botanic Gardens, Enchanted Kingdom, and the National Arts Center. As a bonus, the location of the site development is flood-free and is not near any fault line.